Wide Washes with Smooth Color Mixing
Create exciting light shows with the ADJ 12PX HEX. This RGBAW+UV LED PAR fixture provides smooth color mixing, with a 30-degree beam angle that makes it ideal as an architectural wall wash. Its cool-running LED technology makes it perfect for use on stages where traditional lighting would be too hot for performers. Installing the 12PX HEX is a breeze. A scissor yoke and rubber feet allow you to suspend it or set it on the ground, while its patent-pending power and DMX connector arrangement allow for flat placement or positioning inside of a truss. The 12PX HEX can be operated via DMX, built-in programs, or RF remote (sold separately). The 12PX HEX features a durable all-metal housing and rugged powerCON connectors.
Loaded with professional features
The 12PX HEX is chock-full of pro features. Four DMX modes (6-, 7-, 8-, and 12-channel) give you all the control you need, while five operational modes ensure that you'll never run out of creative uses for the 12PX HEX. You also get five dimming curves and flicker-free operation on camera, which makes the 12PX HEX great for film work.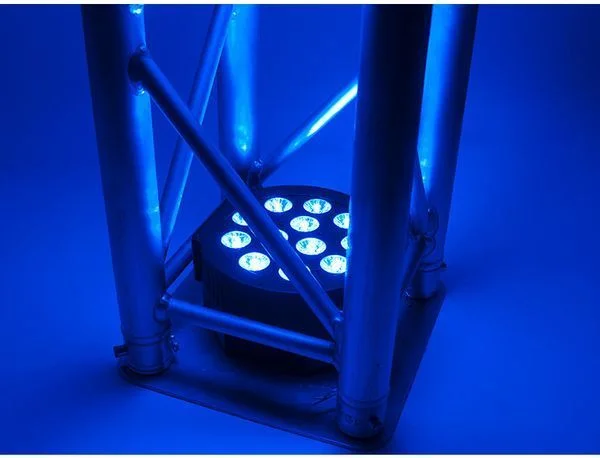 ADJ 12PX HEX RGBAW+UV PAR Features:
LED PAR fixture with smooth RGBAW+UV color mixing
30-degree beam angle makes it ideal as an architectural wall wash
LED technology provides cool, energy-efficient operation
Scissor yoke and rubber feet allow you to suspend it or set it on the ground
Patent-pending power and DMX connector arrangement allow for flat placement or positioning inside of a truss
Flicker-free operation on camera
Can be operated via DMX, built-in programs, or RF remote (sold separately)
Durable all-metal housing
Rugged powerCON connectors