4-pack of Compact, Low-Profile Multi-use PARs
The ADJ Mega Flat Hex Pak is a great all-in-one lighting solution that's a breeze to store and transport. It includes four of ADJ's Mega Hex Par LED fixtures, along with all the necessary cables and a wireless remote. You also get a convenient carry bag. The Mega Hex Par is an easy-to-use compact LED Par that supplies an excellent six-color solution for up lighting and stage washing. With smooth RGBAW + UV color mixing, a 25-degree beam angle, five operational modes, and five DMX channel modes, the Mega Flat Hex Pak provides all the lighting variety you'll need.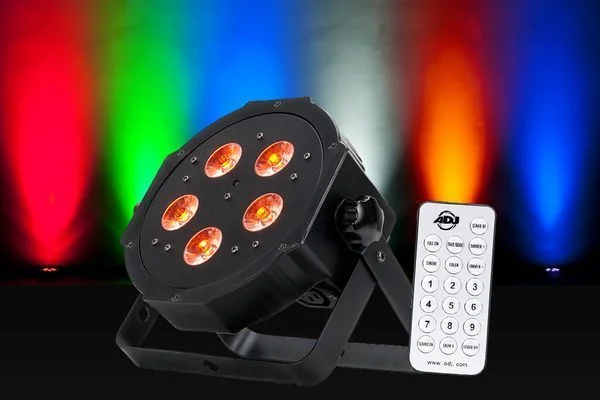 6-in-1 RGBAW + UV configuration provides numerous color combinations
The ADJ Mega Hex Par lighting fixtures in the Mega Flat Hex Pak come equipped with an array of ultra-bright LEDs, which you can blend together to create millions of colors and cool lighting effects. Its 6-in-1 RGBAW + UV configuration offers smooth color mixing and can produce a wider palette of colors than 4-color LED fixtures, such as hot pink, lime green, and electric blue. In addition to creating extremely vivid color light, individual control of each set of colored LEDs also lets you use the whole Mega Flat Hex Pak to create shifting patterns and chase effects totally out of reach for traditional incandescent lighting systems.
Automated programs for fast setup plus DMX for total control
One of the major advantages of ADJ LED lighting fixtures like the Mega Hex Par lighting fixtures in the Mega Flat Hex Pak is just how much control they give you while still being easy to use. For starters, each Mega Hex Par features a whole collection of preset automated programs, which you can you can run at a preset speed or set to follow the music in Sound Activation mode. Go from unboxing the Mega Flat Hex Pak to adding it to your show in minutes! Master/Slave chaining even lets you set up coordinated multi-fixture light shows, without reaching for your DMX controller, you can easily integrate the Mega Flat Hex Pak with the rest of your DMX rig.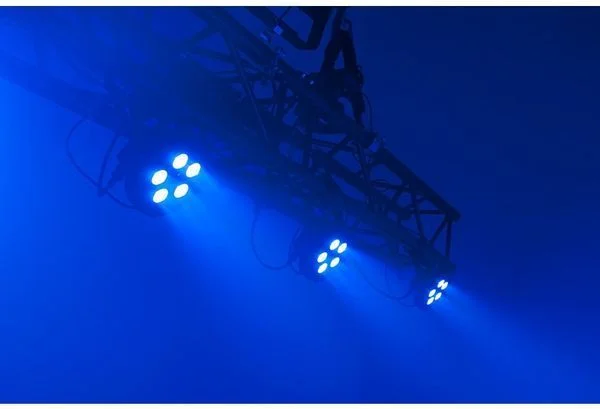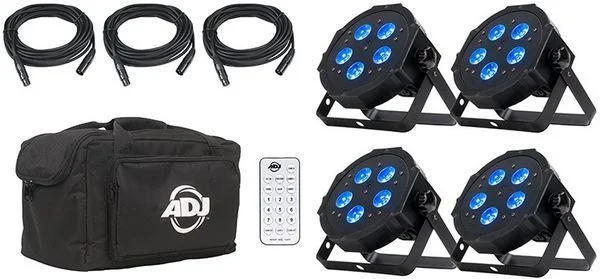 Think green, stay cool, and save money with LED technology
You may not know this, but Sweetwater is one of the few companies to achieve a LEED Platinum rating by the U.S. Green Building Council, an organization devoted to furthering energy-conscious architecture and technologies. That's one of the reasons we're happy to offer ADJ LED lighting fixtures. ADJ has been one of the pioneers that have brought energy-efficient, low-heat LED technology to the mobile DJ and music-lighting world. Whether it's the rich colors (no gels needed), the minimal heat output, the reduced electrical bill, or any number of other good reasons for going with an LED ADJ lighting fixture, we're sure you'll be glad you checked this one out.
ADJ Mega Flat Hex Pak Features:
A complete set of 4 ADJ Mega Hex Par LED lighting fixtures with the essential accessories you need
Designed for up-lighting, truss warming, and stage lighting
6-in-1 RGBAW + UV configuration offers smooth color mixing, and a wider palette of colors than 4-color LED fixtures
DMX control, automated patterns, sound-activation mode, and master/slave DMX daisy chaining offer you many system configuration options
Dual scissor yoke allows each fixture to be hung or set on the ground
A perfect kit for DJs, rock bands, and installations alike
Use the included wireless remote to control black out, full on, strobe, dimming, sound active, and color change
Included carry bag provides room for all 4 fixtures, 3 DMX cables, and even a small DMX controller (not included)