Outstanding LED PAR from ADJ
Get beautiful, warm stage lighting with the ADJ PAR Z120 RGBW. This versatile, modern PAR presents a nice twist on the traditional PAR can by using a powerful 115-watt quad COB (chip on board) LED instead of halogen. The results are astounding: comparable to a 1,000-watt halogen PAR light — and it includes red, green, blue, and white colors. In addition, by using LEDs, users can adjust the can without the worry of being scorched by the often high temperatures of traditional halogen bulbs. Other really cool benefits of LED technology include a lower power draw and cooler heads onstage — literally, since LEDs don't project nearly as much heat as halogen lights. Performers will love you. Your hands will love you.
One dreamy beam
The ADJ PAR Z120 RGBW is a lighting designer and stage director's dream beam. It projects gorgeous red, green, blue, and white light and comes with five different beam angle options that can be changed manually. PowerCON in/out means you can also daisy-chain this PAR with others to set up your desired lighting for the show.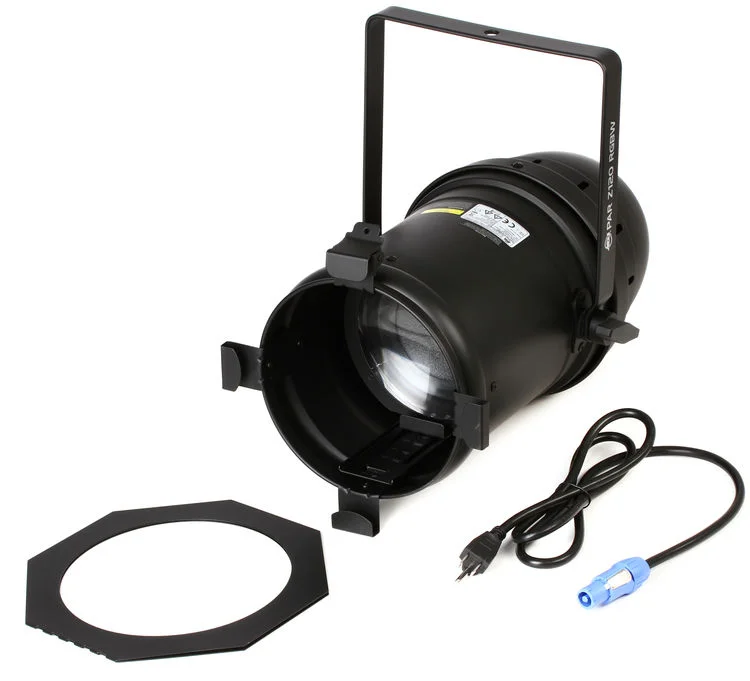 ADJ PAR Z120 RGBW Lighting Fixture Features:
Powerful LED PAR can projects beautiful and warm red, green, blue, and white stage light
LED light emits low heat, allowing for manual changes without the chance of getting burned
5 beam angle options can be set manually via an adjustable latch
5-pin DMX control offers variable strobe rates and 5 different dimming curve options
Easily accessed 4-button DMX menu display on rear panel
Flicker-free operation keeps beam smooth and consistent
Light output is comparable to a 1,000-watt halogen PAR light