Value-packed Lighting Set for Mobile Performers
ADJ's Pocket Pro employs a white 25-watt LED and advanced optical system to conjure vivid surface projections and captivating beams of light — and this Pocket Pro Pak gives you two of them, plus a convenient bag to carry them in. The Pocket Pro includes seven colors plus white, along with seven replaceable gobos, for an array of hypnotic patterns. Free yourself from worrying about insecure AC connections, thanks to a locking powerCON connector. Control the Pocket Pro via four built-in shows, a DMX controller, Airstream MDX Bridge, or myDMX software. This lightweight fixture is easy to transport, making it ideal for mobile entertainers, small clubs and bars, roller rinks, bowling alleys, or retail environments. With twice the power of the original Inno Pocket Spot, the Pocket Pro is a stellar compact moving-head spot.
Replaceable gobos provide you with an array of options
The Pocket Pro's seven replaceable gobos give you a lot of versatility. Its 7-position (plus white) gobo wheel comes preloaded with a wide range of mesmerizing patterns for surface projection and mid-air effects alike. And replacing the gobos is a breeze, thanks to the Pocket Pro's easy-access hinged-case design. An additional four gobos are included in the box, including one with a pair of rings surrounded by a heart — tailor-made for wedding receptions. You can use this fixture with any metal gobo that has an outer size of 18.4mm and a visible area of 13mm.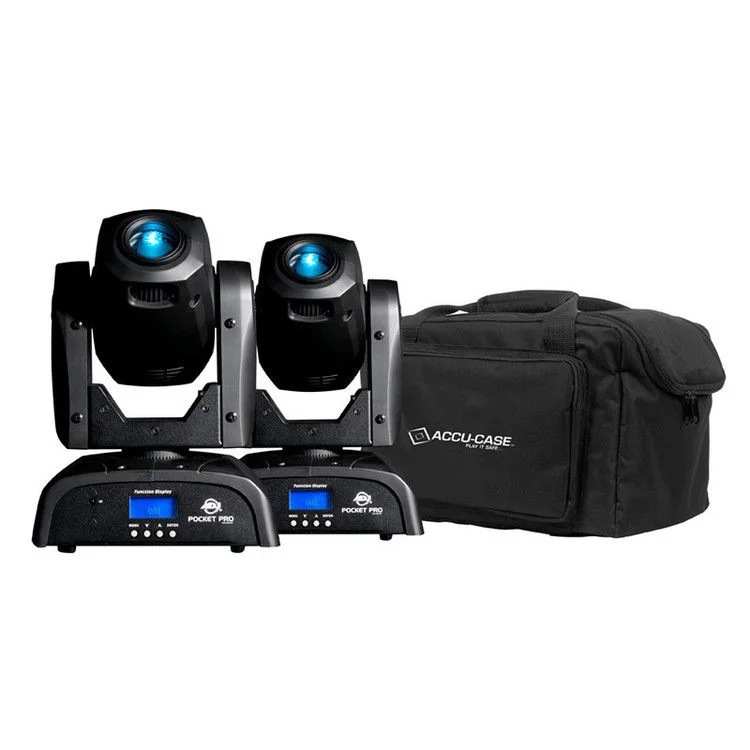 ADJ Pocket Pro Pak Features:
2 x 25-watt LED moving-head spots conjure vivid surface projections and captivating beams of light
Carry bag included for convenient transport
7-position (plus white) gobo wheel comes preloaded with a wide range of mesmerizing patterns
Replaceable gobos yield an array of hypnotic patterns
Easy-access hinged-case design makes replacing the gobos a breeze
Compatible with any metal gobo that has an outer size of 18.4mm and a visible area of 13mm
Control via 4 built-in shows, a DMX controller, Airstream MDX Bridge, or myDMX software
Locking powerCON connector ensures a secure AC connection
Lightweight form factor is ideal for mobile entertainers, small clubs and bars, roller rinks, bowling alleys, or retail environments