Create music wherever inspiration strikes
As an electronic-music producer, you never know when or where inspiration might strike, and the best ideas can come to you when your studio is miles away. The MPC Live II is small and lightweight, so you can toss it in a backpack or messenger bag without even noticing it's there. This fantastically powerful music workstation can run for up to six hours from its internal Li-ion rechargeable battery, so you don't have to be anywhere near AC to get creative. And the MPC Live II's built-in stereo speaker system delivers immersive sound wherever you go. This top-notch dual tweeter-woofer system offers a full-range picture of your production. A thumping 808, thunderous bass line, crisp-sounding cymbals — you'll hear it all. Want to work silently? No problem. Shut off the built-in speakers, plug in your headphones, and you're good to go.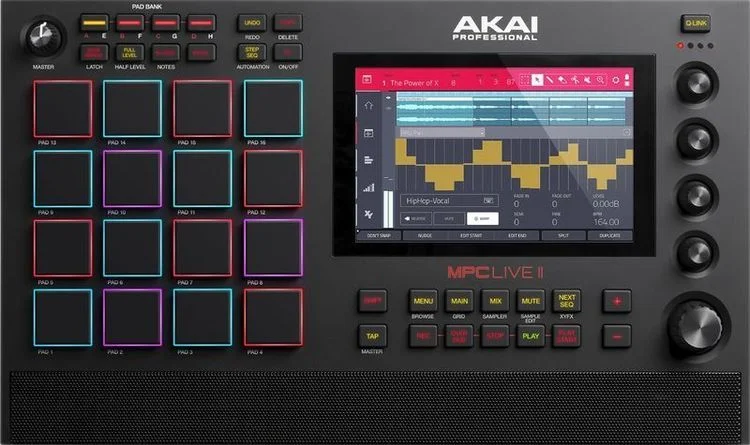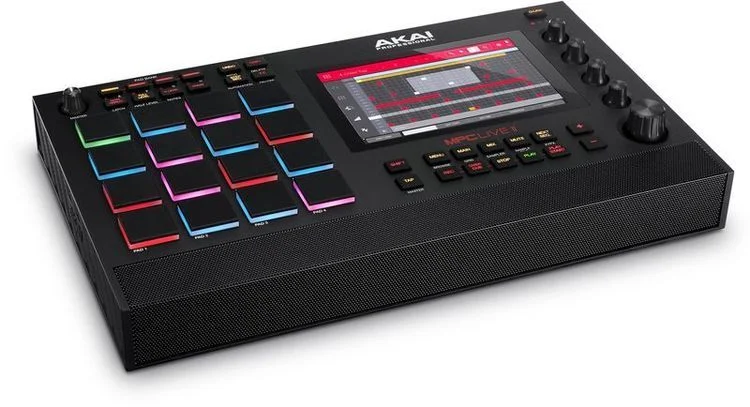 Brilliantly simple yet totally flexible layout
The Akai Professional MPC Live II boasts the same robust multicore processor as the MPC X, along with a bevy of user-requested features. Sequence, edit, and chop samples on a bright 7-inch touchscreen, while 16 next-gen MPC pads respond dynamically and deliver full velocity and pressure sensitivity, so you can jump between percussive and melodic instruments smoothly. Four capacitive-touch knobs and an arsenal of dedicated buttons put all the important functions you need at your fingertips. To top it off, a super-intuitive UI ensures a laser-focused workflow.
Comprehensive I/O unleashes the true power of your studio
With the MPC Live II, you'll be able to tackle any project. This versatile music production center comes loaded with three stereo 1/4-inch TRS outputs, plus phono/line-level inputs, USB, MIDI, Wi-Fi, Bluetooth, and four TRS CV/gate outputs. Thanks to MIDI Multi capability, the MPC Live II can command all of your external MIDI gear, including class-compliant USB keyboards, MIDI interfaces, and USB-to-CV modules. Deep internal MIDI routing across tracks, plus comprehensive MIDI routing makes the MPC Live II the perfect centerpiece for your MIDI-based studio. Synthesizers, drum machines, sound modules, and more can all be controlled by the MPC Live II. Add to that multitrack recording capability, and you have everything you need to turbocharge your next production.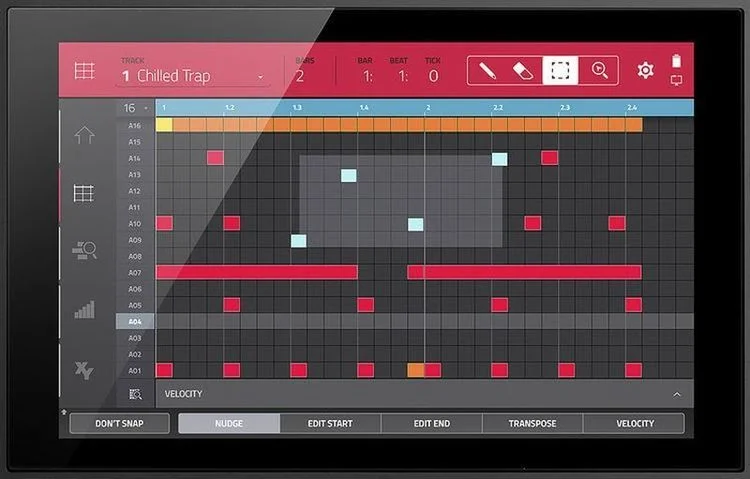 MPC 2.0 delivers serious workflow upgrades
When Akai Professional announced a software DAW that thought like an MPC back in 2012, the electronic-music-production world went nuts. The immediate success of the MPC Studio and the MPC Renaissance paved the way for the next generation of standalone MPCs and the MPC 2.0 platform. The one thing many of us at Sweetwater love about MPC 2.0 is that you can finally record audio tracks right alongside your loops. This feature alone pushes the MPC software DAW out of the realm of beat production into the big leagues with other loop-based DAWs. While they were at it, Akai Professional also updated their time-warp algorithm and enhanced their Q-Link control system. What's more, drag-and-drop MIDI and audio makes the most of the MPC Live II's touchscreen.
Tons of sample space and room for expandability
Sporting 16GB of internal storage, the MPC Live II offers you plenty of space for your sample collection. If you're a sample hoarder, then you'll appreciate being able to hook up any hard drive (HDDs and SSDs) via the 2.5″ SATA drive connector, or to plug an SD card or USB flash drive directly into the MPC Live II and only load up a few extra GB of samples.

Splice integration offers immediate access to your sample library
Splice has been a major asset for producers, supplying millions of high-quality, royalty-free samples, sounds, presets, and loops, covering the full gamut of genres. The Akai Professional MPC Live II includes onboard Splice integration to simplify sample browsing and auditioning. Thanks to this baked-in Splice integration, you'll gain quick, easy Wi-Fi access to your Splice library directly from the MPC Live II's touch user interface.
Ableton Link primes you for cross-platform collaboration
The MPC Live II was tailor-made for Ableton Live. It comes pre-mapped for the software right out of the box, giving you intuitive command over Live's clip launching, mixer, and instrument macro controls wirelessly via Wi-Fi Ableton Link or by ethernet using a USB-to-ethernet adapter. The MPC Live II is primed for cross-platform collaboration.
Akai Professional MPC Live II Features:
A compact standalone DAW that lets you untether from your PC or AC
Classic sampling workstation with the flexibility of a modern DAW
Built-in stereo speaker system delivers immersive sound wherever you go
7" high-resolution multitouch display complements streamlined controls
16 of the best velocity-/pressure-sensitive pads you'll ever feel
Internal, rechargeable lithium-ion battery can run for up to 6 hours
MPC 2.0 adds audio track recording and upgraded time warp
MIDI Multi capability enables you to take command of all of your external MIDI gear
CV/gate outputs for analog control of synthesizers, drum machines, and similar equipment
16GB of internal storage, external hard drive support, full-size SD card slot, and USB-A 3.0 slots for thumb drives
Wi-Fi and Bluetooth enabled offers wireless connectivity
Splice integration for fast, easy access to your sample library
Ableton Link for cross-platform collaboration