The original standalone music production workstation
The Akai Professional MPC experience has always been about getting your hands on your music, no computer required. Musicians at Sweetwater are pleased to see the MPC One delivers the true MPC experience, right down to 16 velocity- and pressure-sensitive pads for banging out beats, playing bass lines, and composing melodies. Classic MPC note entry tools such as Note Repeat, Full Level, and 16 Levels are all here, and you can assign four of your most-used parameters to the touch-sensitive rotary encoders. From your first spark of inspiration to the final polish, you'll never have to take your hands off your MPC One.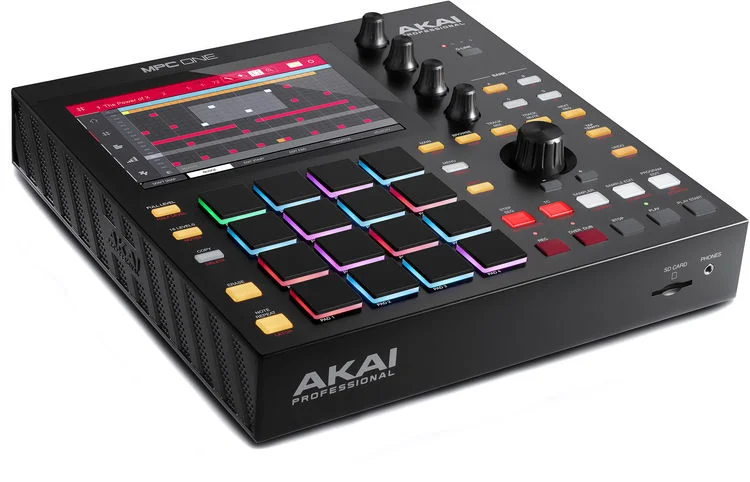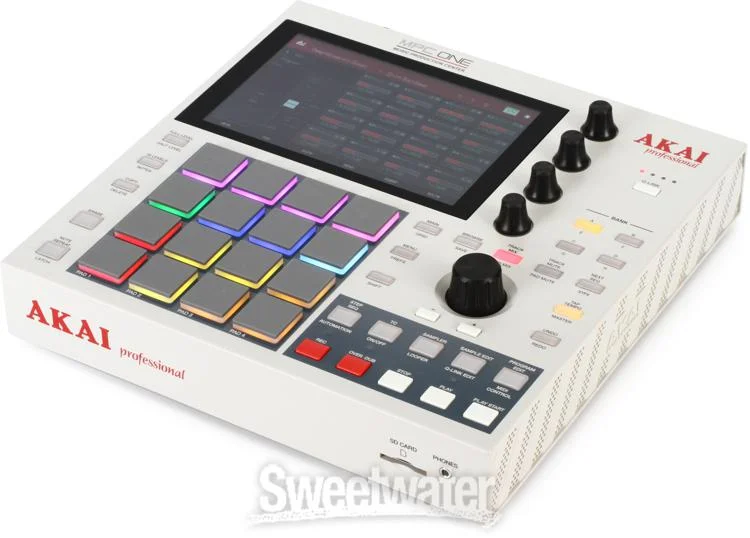 Modern connectivity options
With its powerful sequencing and sampling abilities, the MPC One is perfect for pairing with other synthesizers, drum machines, and sound generators. It's ready to fit into your creative workflow no matter how you like to create music. In addition to line-level inputs and outputs, you'll find a bank of CV/Gate outputs for use with Eurorack modular synthesizers. MIDI I/O is present for connecting synths, effects, and other MIDI-capable gear. You'll even find a USB input so you can compose music with your favorite controller instead of the pads.
Powered by MPC Software 2
Whether you're using MPC One standalone or in controller mode, Akai Professional's MPC Software 2 delivers a ton of creative potential. It's the most advanced MPC engine to date, delivering 128-track sequencing, real-time time stretching, clip launching, and incredibly advanced MIDI editing. It's compatible as a VST in controller mode, and a standalone application is also available for advanced functionality with your Mac or PC. MPC Software 2 basically gives you the most comprehensive experience when using the MPC One standalone, while also arming you with unprecedented potential when you do decide to get your computer in on the action.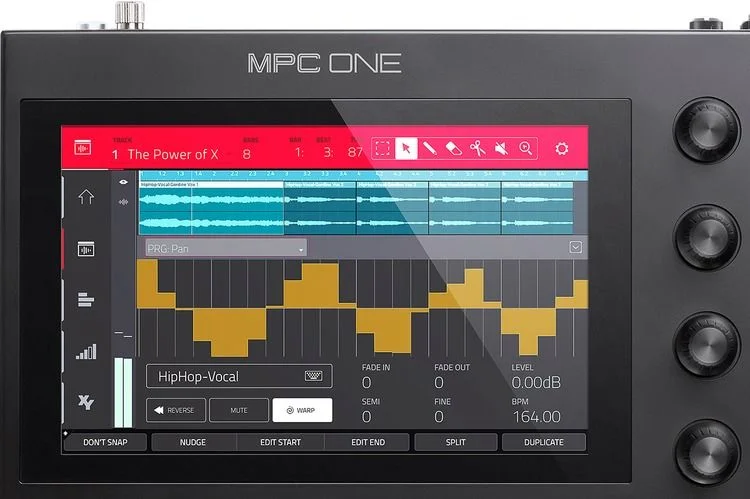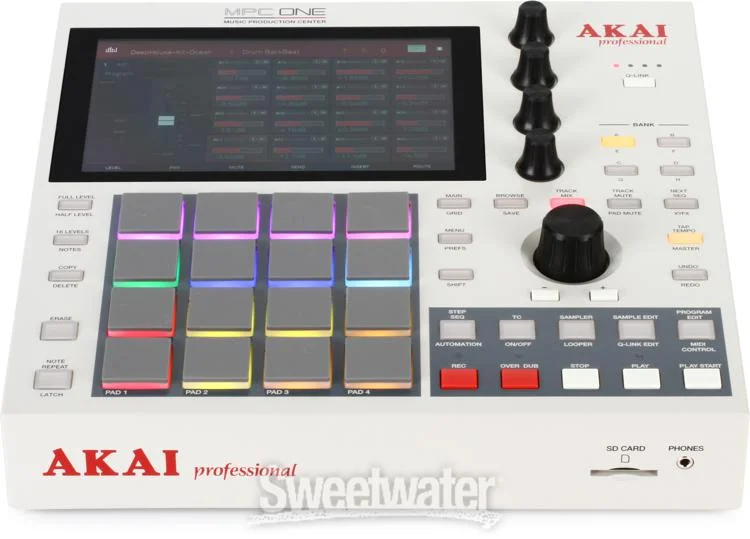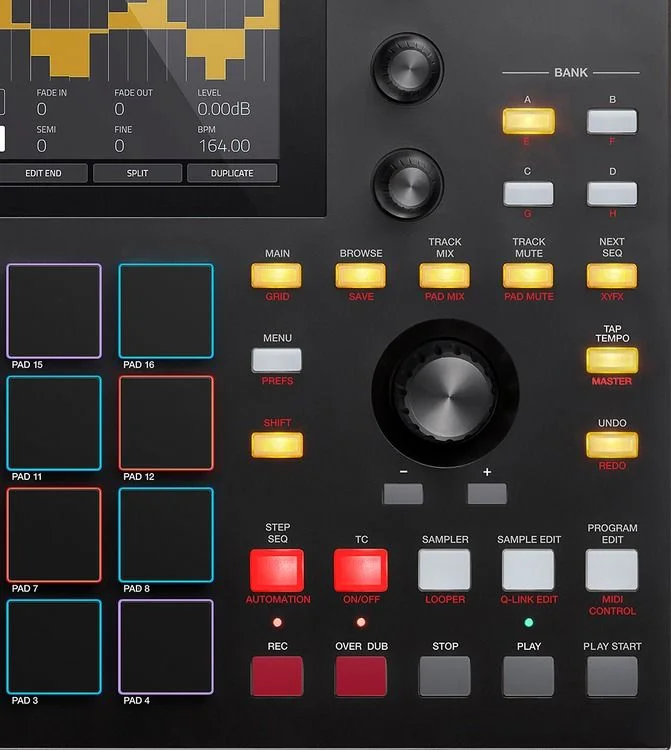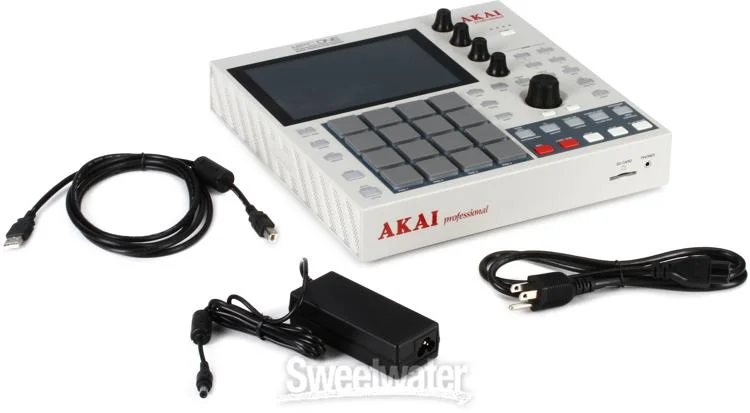 Loaded with loops, samples, instruments, and effects
The MPC One packs 4GB of internal storage (you can add your own samples via SD card or USB), and right out of the box you'll find a ton of great content. A new drum sample and loop library deserves some auditioning time, with production-ready sounds created by sound designers including RawCutz, F9, Decap MSX Sound Design, and MVP Loops, among others. MPC One also features Akai Professional's acclaimed instrument plug-ins — Electric, Tubesynth, and Bassline — plus renowned AIR FX mixing and mastering processors. You're more equipped than ever to produce radio-ready tracks with the MPC One.
Akai Professional MPC One Standalone Sequencer/Sampler Features:
Standalone music production center with 4GB onboard storage
Fully compatible with projects, programs, and sequences from previous MPC versions and legacy hardware
Delivers much of the functionality of the MPC X in a more convenient, compact form factor
Comes loaded with loops and samples created by industry-leading sound designers
Load up your own custom samples via SD card or USB
7-inch touchscreen allows you to edit and chop samples via gestures
16 velocity- and pressure-sensitive pads for programming beats and playing melodies
Includes acclaimed instruments such as Electric, Tubesynth, and Bassline, and AIR FX mastering processors
USB controller input allows you to play sounds with your favorite controller keyboard
8 CV/Gate outputs for controlling modular synthesizers
MIDI I/O for integrating synthesizers, drum machines, and other hardware
Stereo line-level inputs and outputs on 1/4-inch TRS connections
Single USB-A port for thumb drives or control surfaces