Loaded with ways to enhance your events
In addition to its 540° panning and 270° tilt range, the Intimidator Spot 110 comes loaded with ways to enhance your event. Its seven colors and gobos provide endless shades and shapes to play with. And when you factor in the onboard strobe and sound-activation functions, alongside DMX control capability, there's simply no end to all the Intimidator Spot 110 can bring to your lighting setup.
Set-and-forget auto modes
The Chauvet Intimidator Spot 110 from Sweetwater lets you create engaging light shows without being a DMX guru. Its onboard movement macros and invigorating sound-activated programs provide plenty of options to choose from. What's more, the Intimidator Spot 110 lets you easily control multiple units via a simple master/slave setup, allowing you to build massive automated moving light shows in minutes. Best of all, if you pick up an optional IRC-6 remote (not included), you can control your Intimidator Spot 110 from just about anywhere within sight of the fixture.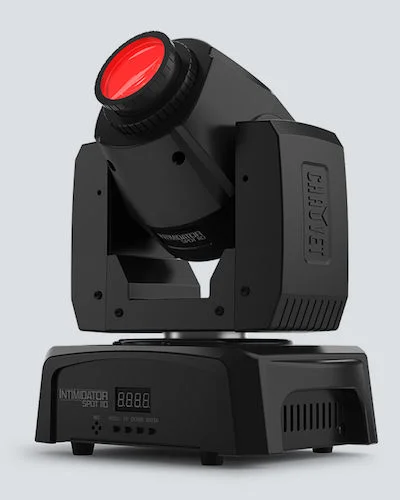 Chauvet DJ Intimidator Spot 110 Features:
Super-compact moving LED spotlight fixture
Perfect for mobile rigs
Cool-running 10W LED lamp — no downtime
7 colors and 7 gobos, each with continuous scroll
Sound-activated programs automatically follow the beat of the music
Link and control multiple units via the simple master/slave automation mode
Selectable 540°/270° pan and tilt ranges let you adjust the resolution of your positioning controls
Built-in effect macros minimize programming time
Control various parameters on the fly via the optional IRC-6 wireless remote (sold separately)