The expressive power of aftertouch
Normally only found on high-ticket keyboards, aftertouch is one feature you might not know you need until you've actually used it. Synth mavens use it like you would any MIDI CC, but the fact that it doesn't require taking your hands off the keyboard (or operating a pedal) makes it especially valuable. Perhaps the best example of aftertouch in action is leaning into a note you're already playing to apply some tasty vibrato to the tail end. The Hammer 88 Pro is fitted with a mod wheel and an expression pedal jack, and of course you can commandeer any of its assignable knobs or faders for any continuous controller function. It all adds up to a prodigious arsenal of creative power you can deploy to make incredible music. And that, friends, is what it's all about!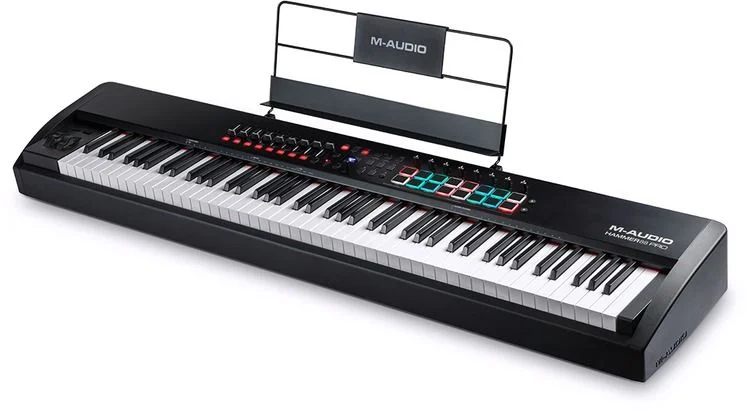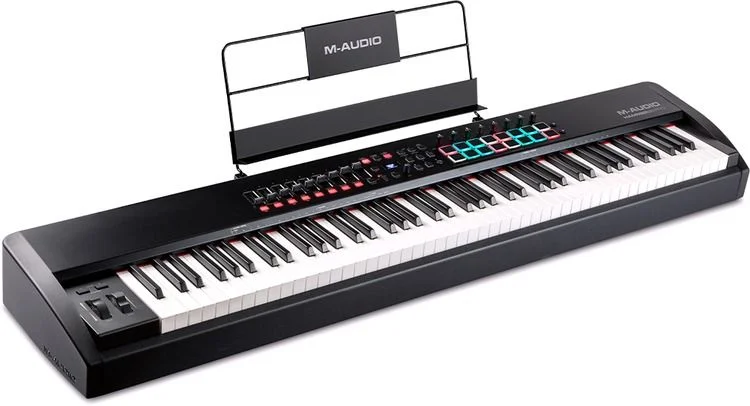 Full integration with your studio and gig rig
If, like many musicians at Sweetwater, you use hardware synths, sound modules, and drum machines in addition to virtual instruments, you'll appreciate the Hammer 88 Pro's 5-pin DIN MIDI I/O. Of course, there's a USB-MIDI port for connecting with your computer. Add the optional Apple Camera Connection Kit, and you have access to your favorite iOS music apps. And for the ultimate in convenience, the Hammer 88 Pro is USB-powered and class-compliant, so there's no power supply to misplace! It's available separately, however, if you need one for standalone use.
Everything you need to make incredible music
Hammer 88 Pro is loaded with smart features that pack everything you need to make music into one powerful package. No need to get bogged down in music theory — Hammer 88 Pro's Smart Chord mode lets you play sophisticated enharmonic or custom chord voicings, while its Smart Scale mode eliminates incorrect notes, so you can solo like a virtuoso. Also onboard is a full-featured Arpeggiator with type, octave, gate, and swing controls. DAW transport controls, ergonomic pitch bend and mod wheels, a sustain pedal jack and three switch-type pedal inputs, 5-pin MIDI I/O, and USB-MIDI complete the setup. But that's not all — Hammer 88 Pro comes with a premium software package to supercharge your productions.


Included premium software suite
With the M-Audio Hammer 88 Pro, you get free MIDI editor software plus a complete software production package featuring ProTools | First M-Audio Edition, Ableton Live Lite, and MPC Beats, plus seven virtual instruments from AIR Music Technology (Hybrid, Velvet, Mini Grand, Xpand!2, Vacuum, Boom, DB-33) and nine MPC Beats Expansion Packs.
M-Audio Hammer 88 Pro 88-key MIDI Controller Keyboard Features:
88 fully-weighted, hammer-action keys with aftertouch and assignable zones
Intuitive panel layout with OLED screen for quick control edits
16 RGB, backlit, assignable, velocity-sensitive pads with Note Repeat for beat production, clip launch, and more
8 assignable knobs and buttons for controlling virtual instruments, plug-ins, DAW controls, and more
9 assignable faders for controlling virtual instruments, plug-ins, DAW faders, and more
Preset and DAW buttons for auto-mapped DAW controls and plug-in parameters
Smart Chord mode lets you effortlessly play enharmonic or custom chord voicings
Smart Scale mode eliminates errant notes, making it easy to craft a perfect song
Arpeggiator with Type, Octave, Gate, and Swing controls
USB-MIDI connection for playing virtual instruments, controlling music software, and more
5-Pin MIDI DIN port for triggering external MIDI hardware
Pitch bend and modulation wheels and +/- controls for expressive performances
1 Expression, 3 Footswitch pedal jacks
USB-powered; power adapter available separately for standalone use
Class-compliant, no drivers required, plug-and-play connectivity with Mac/PC
iOS compatibility via Apple Camera Connection Kit (available separately)
Includes MIDI editor software and a complete premium software production suite
Music rest included