Tap into an extensive library of superb sounds
Between the PSR-S600's advanced voices, stockpile of 480 XG sounds, and extensive collection of drum and SFX kits, it's easy to find inspiration quickly. Among the advanced voices, you'll find 27 brilliantly detailed Sweet! Voices, 64 impressively dynamic Cool! Voices, and 71 stereo sampled Live! Voices, plus 27 of Yamaha's Mega Voices, which allow you to comfortably play instruments that aren't always easy to articulate on piano keys. What's more, you can expand both the PSR-S600's voices and styles with Yamaha's Expansion Packs and 100MB of storage space, so fresh sounds are never far away.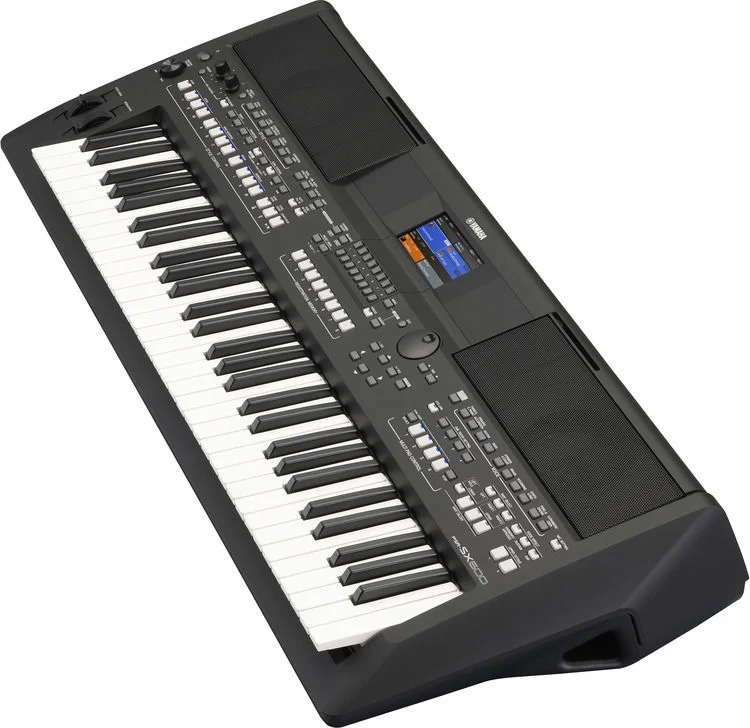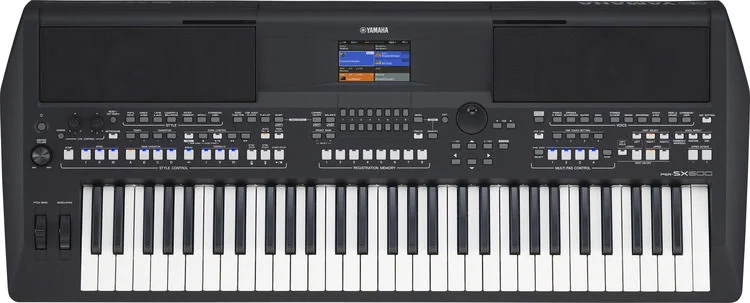 Styles and sequencing let you write music quickly
Speaking of fresh styles, one of the things that impressed us, our first glimpse of the PSR-S600 is the way the Unison function lets Style accompaniment parts follow your performance. All told, you get 415 accompaniment Styles that naturally adapt to your performance and fill in around the notes you play. These Styles include all of the standard genres you know and love, plus many exotic options from around the world, so it's easy to get adventurous. And when you find something you love, there's an easy-to-use sequencer onboard that lets you turn your ideas into finished pieces.
A powerful performance keyboard
With its sleek, stage-ready design, amazing new Voices and Styles, and Unison and Accent functions, the PSR-SX600 is a performance keyboard like no other. Its Accent function lets you add rhythmic accents anytime on-the-fly, simply by hitting the keys with greater velocity. The Smart Chord feature makes it easy to play everything from simple triads to jazzy 7th voicings with just a few fingers. Studio-grade DSP effects such as Real Distortion applied to a guitar or Real Reverb on a piano add the perfect of color and vibe to your sound. Real-time control knobs, assignable pedals, and expansion ROM make the Yamaha PSR-SX600 instantly customizable to your needs, whatever the musical setting.

Yamaha PSR-SX600 61-key Arranger Workstation Features:
Unison function allows Style accompaniment parts to follow your performance
Accent function lets you add rhythmic accents on-the-fly by hitting the keys with greater velocity
Style Section Reset lets you to go back to bar one, beat one with a button press to restart the song on-the-fly
1/4-inch mic input lets you sing along while you play, hearing your voice through the speakers and recording your performance to USB audio
Super Articulation voices reproduce the natural expressive nuances of non-keyboard instruments
DSP FX for customizing voices by adding distortion to guitars, concert-hall reverb to pianos, etc.
Part EQ lets you shape your sound by adding EQ to individual parts of a song
Smart Chord feature makes it easy to play everything from simple triads to jazzy 7th voicings with just a few fingers
MegaVoices feature articulations, playing techniques, and performance sounds that are employed in accompaniment Styles for hyper-realistic expression
Assignable real-time control knobs for analog synth-style on-the-fly filter sweeps and sonic tweaks
USB-to-Host connectivity with MIDI and audio transfer for 1-cable connection to your music-creation software
The USB-to-Device port lets you use inexpensive, convenient USB flash drives for storing and recalling data
Included music rest