Built to deliver critical detail, nuance, and dynamic accuracy
The BX5 D3 was meticulously engineered to provide accurate sound reproduction. A high-current, high-headroom Class A/B amplifier drives a 5″ military-grade Kevlar woofer and 1″ silk dome tweeter. The speaker features a bi-amplified design, so it exhibits a sound that's both powerful and precise. A rear-mounted port was built to a specific length and diameter to produce deep, defined bass. A custom waveguide eliminates unwanted high-frequency scatter, ensuring that the BX5 D3's imaging is spot on. And don't worry about positioning — a front-panel LED shines brightly when the BX5 D3 is at the ideal monitor angle.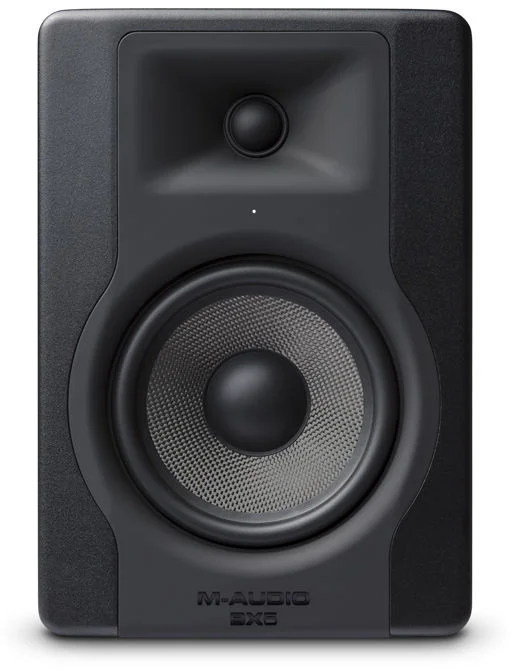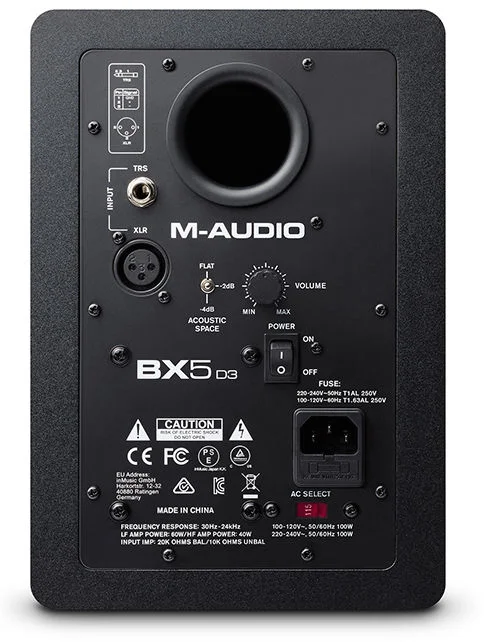 Tailor your studio monitor to your mixing environment
Every room is different, and the BX5 D3 takes this into account. Its Acoustic Space Control tailors your monitor to your mix space, ensuring that you experience honest, accurate sound. Thanks to this useful feature, you can eliminate those pesky low frequencies and tame problematic standing waves. Use a set of these monitors, and you'll be amazed at how your mixes sound — they'll sound great in the studio, on your earbuds, and in your car.
M-Audio BX5 D3 Features:
100W active studio monitor with 5″ military-grade Kevlar low-frequency driver and 1″ silk dome tweeter
Bi-amplified design delivers a sound that's both powerful and precise
Custom waveguide ensures accurate dispersion for an incredibly tight soundstage
Optimized rear-mounted port produces defined low-end response with bass extension down to 52Hz
Acoustic Space Control tailors your monitor to your mix space
Volume control for dialing in the perfect playback level
Balanced combo input allows for flexible installation
Front-panel LED shines brightly when the speaker is positioned at an ideal angle