The Swiss Army knife of power solutions
There's very little that you can't power with the POW-R BAR65. Its six surge-protected AC 3-prong Edison power sockets work with any gear that you'd normally plug into an AC outlet. Its built-in 4-port USB 3.0 hub is great for external hard drives, bus-powered controllers, and other USB peripherals. Four USB 3.0 type A sockets accommodate both data and charging, while an extra USB 3.0 type B connector is designed to accept a PC. Beyond that, an additional 2.1A USB type A connector is onboard for charging your mobile device
. We've found that the POW-R BAR65 is equally at home at front of house and lighting control desks, club and mobile DJ rigs, computer workstations, and studio spaces.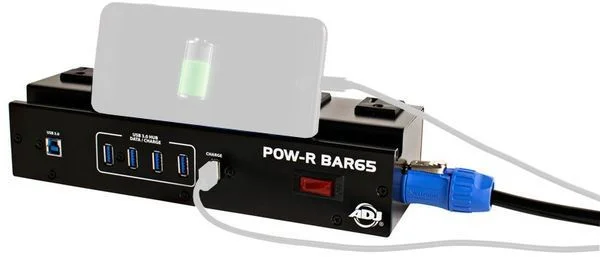 ADJ POW-R BAR65 Power Strip and USB Hub Features:
6 surge-protected AC 3-prong Edison power sockets work with any gear that you'd normally plug into an AC outlet
Built-in 4-port USB 3.0 hub is great for external hard drives, bus-powered controllers, and other USB peripherals
4 USB 3.0 type A sockets accommodate both data and charging
USB 3.0 type B connector is designed to accept a PC
Additional 2.1A USB type A connector is onboard for charging your mobile device
Integrated shelf for placing your device during charging
Heavy-duty metal construction
Includes a 6-foot line cord, captive, 14 AWG, with 3-conductor Edison powerCON locking plug