Energize the Crowd with this Colorful Moonflower Effect
Dazzle the crowd with this colorful and exhilarating Quad Phase HP moonflower effect from ADJ. Perfect for dance clubs, wedding receptions, and live music venues, the Quad Phase HP is designed to light up the room with dancing beams of majestic colored light. Choose from 15 vibrant color presets, emanating from Quad Phase HP's 32-watt, 4-in-1 quad color LED source, with responsive movement powered by 1.8-degree long-life stepper technology. The Quad Phase HP has three operational modes to accommodate a range of setups — sound active, master/slave, and DMX512 with color, rotation, strobe, and dimmer channels. A favorite of lighting technicians, the Quad Phase HP turns up the excitement at any event for an unforgettable experience.
Great for mobile setups and fixed installations
The Quad Phase HP excels in both mobile setups and fixed installations. Its LED light source is rated for 30,000 hours of use, and, with no duty cycle, it can run continuously throughout the night. The Quad Phase HP includes a yoke and safety loop for reliable mounting, and its 4-button LED menu display is easy to read, even in low lighting. Equipped with in-and-out IEC power connections, the Quad Phase HP allows you to daisy chain up to five units, saving precious power supply real estate. For remote operation, it includes a wireless IR remote and is compatible with ADJ's UC3 controller. No matter the venue, the Quad Phase HP is an ideal choice for adding a striking moonflower effect to your lighting design.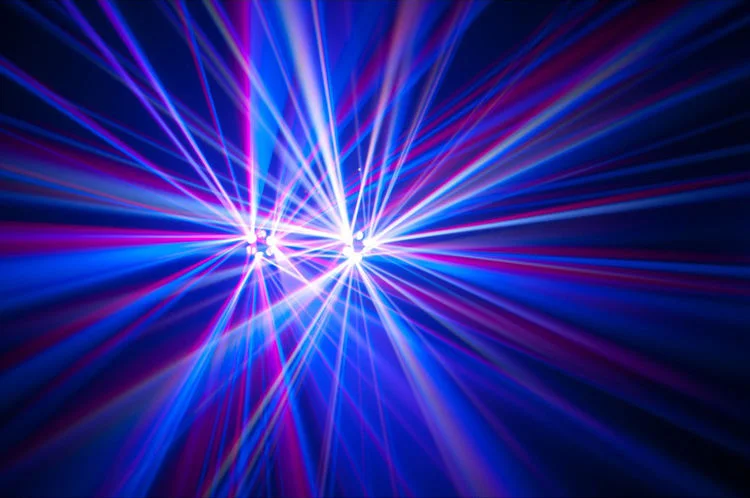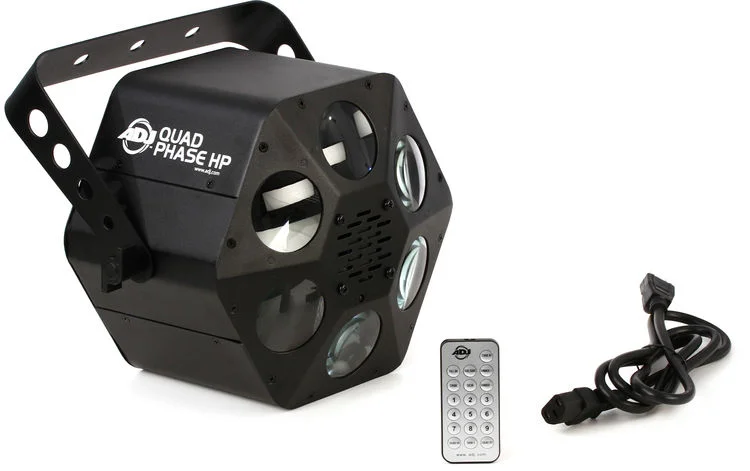 ADJ Quad Phase HP Quad-color LED Moonflower Effect Features:
Stunning moonflower effect perfect for dance clubs, wedding receptions, and live music venues
32-watt, 4-in-1 color LED source with 15 vibrant color presets
64-degree beam angle
Responsive 1.8-degree long-life stepper technology for swift and smooth movements
Three operational modes: sound active, master/slave, and DMX 512 with color, rotation, strobe, and dimmer channels
LED light source rated for 30,000 hours of use
No duty cycle allows continuous operation all night long
Yoke and safety loop for safe mounting
Daisy chain up to five Quad Phase HPs with built-in IEC in/out power connections
Includes a wireless IR remote
Compatible with ADJ's UC3 controller (sold separately)