Battery-powered Wireless Hex-color LED PAR Lighting Fixture with D-Fi Wireless DMX and IRC-6 Wireless Remote Control Compatibility and CHS-FR4 Freedom PAR Tote
Many of us first became acquainted with Chauvet before LED technology caught on, and it's been impressive to see their range of fixtures grow. Today, Chauvet offers some of our most popular LED lights, from drop-in PAR replacements and intelligent lighting instruments to exciting effects, foggers, haze machines, and more. We also love their innovation. Chauvet has brought LED technology to classic fixtures like ellipsoidal and Fresnels, while their D-Fi system has made wireless DMX truly accessible. Top it off with powerful hardware controllers, next-gen DMX control software, and much more, and we're happy to recommend the Chauvet gear we not only stock but also use ourselves.
Chauvet DJ Freedom Par Hex-4 RGBAW+UV Wireless Par
Sells separately for $399.99 each Ditch the cables, cut the cords, and upgrade your rig with the hex-color flexibility of Chauvet's Freedom Par Hex-4 LED lighting fixture. One of Chauvet's popular Freedom series fixtures, this battery-powered light offers up to 20 hours of continuous operation between charges, while hex-color LEDs let you mix a virtually endless range of colors including pale pastels, warm earth tones, and electrifying UV. An integrated D-Fi transceiver lets you choose from FlareCON Air or FlareCON app control, or grab an IRC-6 wireless remote and keep it simple. Between its compact, truss-ready design and its built-in adjustable kickstand, the Freedom Par Hex-4 makes it easy to produce vivid light wherever you need it.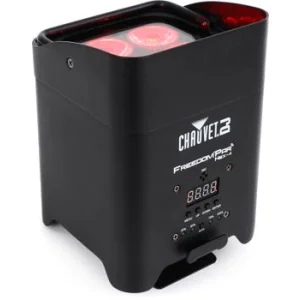 Qty: 4
Chauvet DJ CHS-FR4 Bag for Freedom Par Lights
Sells separately for $54.99
Those of us here at Sweetwater who've taken Chauvet lighting gear out on the road really dig how convenient and roadworthy their Freedom Par instruments are, and this CHS-FR4 carry bag makes them still easier to transport. You see, you can comfortably fit up to four Freedom Par fixtures in this bag, including Freedom Par Tri-6, Quad-4, or Hex-4 models, and padded inserts offer an extra layer of protection. What's more, there's a large outer pocket on the CHS-FR4 that offers you plenty of room for any clamps or cables you happen to need.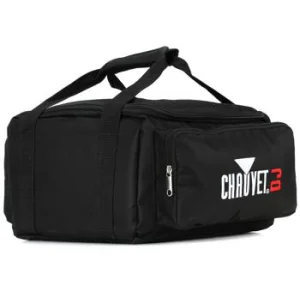 Only logged in customers who have purchased this product may leave a review.