100% wireless control with mobile devices
The FlareCON Air 2 transmitter is compatible with Apple and Android operating systems and generates its own Wi-Fi network. This allows you to control your lighting fixtures from anywhere using almost any smart device. You can use your smartphone or tablet to control an unlimited number of D-Fi enabled fixtures and receivers simultaneously. Whether you're controlling the lights at your local venue or running the show at Coachella, the FlareCON Air 2 has your back.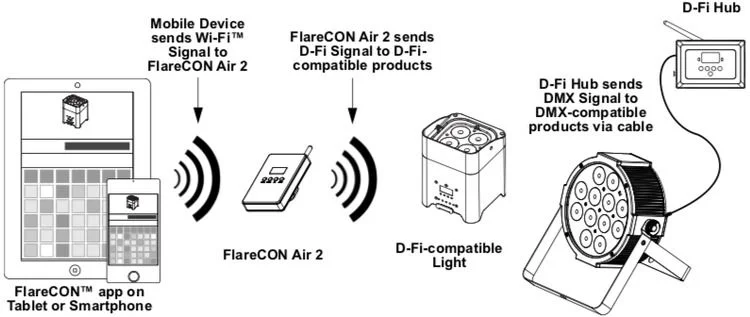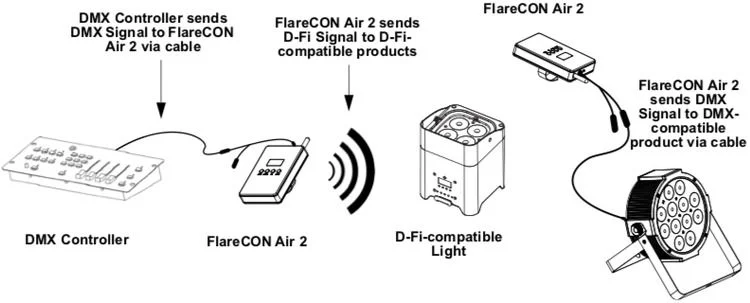 Compatible with DMX controllers
Want to use your DMX controller but still go wireless? The FlareCon Air 2 can handle it. This compact transmitter is complete with a DMX adapter input. When it receives signals from the DMX controller, it sends D-Fi signals wirelessly to D-Fi compatible lights. For best results, Sweetwater recommends that you install the FlareCON Air 2 within 400 feet of your D-Fi fixtures and keep your smartphone or tablet within 200 feet of the transmitter.
Use a D-Fi Hub for greater compatibility
Have a few fixtures that aren't D-Fi ready? No problem! If you purchase a D-Fi Hub (sold separately) you can control your DMX lights with the FlareCON Air 2. This way, you can hang on to your favorite fixtures and still go wireless. With Chauvet DJ's commitment to making wireless technology easy and intuitive, there's no reason to stay stuck in the past.
Chauvet DJ FlareCON Air 2 D-Fi Transmitter and Wi-Fi Receiver Features:
Truly wireless Wi-Fi receiver and wireless D-Fi transmitter in one single unit
Manual or automatic modes for easy channel selection
Compact design stays inconspicuous onstage
OLED digital display provides simple navigation and readout
Onboard battery lets you take your show anywhere
Can control an unlimited amount of D-Fi enabled products simultaneously
Compatible with Apple and Android smartphones or tablets
Built-in hook and loop fastener allows for direct mounting to truss